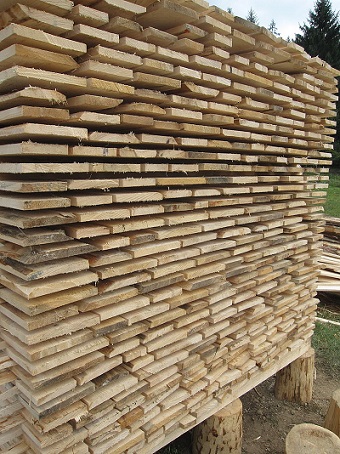 Believe it or not, but kiln dried oak, although widely used across the industry, is actually ill-suited to the needs of heritage window restorations. Air dried oak is much better suited to the thermal, aesthetic and performance demands of timber windows. Here's why.
The drying process
The drying process helps to give finished timber most of its structural, thermal and aesthetic properties. There are two processes used across the industry for drying timber: air-drying and kiln drying.
Air-drying, the process that we use here at Wessex Restoration, creates a finished timber that is much better suited to the demands of heritage window renovation than kiln drying.
Why air drying is best
Traditionally, air-dried oak beams are stacked in layers which are separated by timbers. This space allows air to circulate between the beams, which gradually reduces the moisture content of the timber.
Air dried oak is usually left to dry like this for a minimum of three years. During this period the oak very slowly expands and contracts due to the different air conditions of the seasons, and this process helps to release any tensions left in the timber.
The finished air-dried timber has a much more stable internal structure than kiln dried oak, because it has been gradually dried. This makes it perfect for use in an application such as a window, where thermal insulation, and high, yet sympathetic, aesthetics are incredibly important.
Air-dried timber: the authentic, traditional timber
Timber used for construction has been air dried for centuries. If you want an authentic timber window that is sympathetic to the traditional aesthetic of a heritage building, air-dried oak is the perfect material to choose.