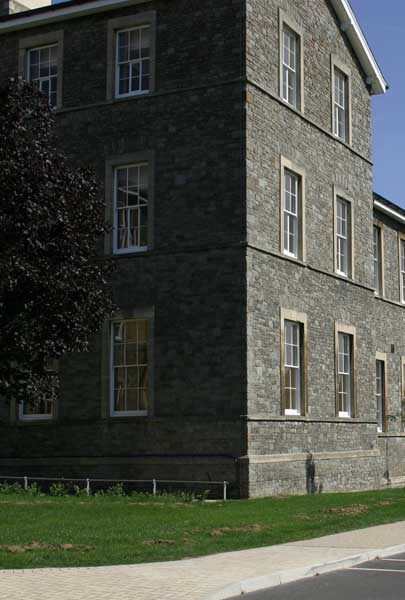 Architectural Joinery
Wessex Restoration is a specialist heritage joinery with 25 years' experience designing, supplying and installing timber glazing products for period properties.
We have worked on a range of projects alongside some of the UK's best architects and contractors, mainly refurbishing and repurposing period and listed buildings.
With a combination of precision woodworking machinery and experienced traditional bench joiners, we can offer traditional look timber windows, doors, profiles and panelling that achieve modern specifications.
Specifying heritage timber products
From sash windows to timber mouldings, period fire doors to lantern roofs, we are able to produce authentic period pieces to match your designs. We can also make replicas of original timber features from a photo or drawing to scale.
Wessex Restoration can provide technical information and drawings for all of our products and can even create digital drawings using Auto CAD to allow you to incorporate them into your design plans more easily.
We can also offer you any advice and guidance you need in choosing the best timber products for your next project, including technical information such as ventilation ratings, energy efficiency, and performance.
For more information about any of our products or services call 01275 810322 or contact us.
Architects we have worked with
Architects
Projects
Stride Treglown
Paragon Laundry – Swindon
Purcell
Kresen Kernow – Cornwall
Allford Hall Monaghan Morris
Queen Victoria House – Bristol
Aaron Evans Architects
Royal High School – Bath
AWW Architects
Brunel House – Bristol
Peter Yiangou Associates
Manor farm – North Oxford
Claire Wood
Manor farm – Tetbury
Crucis Park
Berman Guedes Stretton
Cheltenham Museum & Art Gallery
Ferguson Mann
Knightstone Island
Smith Gamblin
Woodard's Development – Taunton
Kendall Kingscott
Clifton Hill Hospital Bristol
Heartlands Cornwall
Chesterfield Hospital, Clifton Court
O'Leary Goss
City of Bristol College
HTA Architects
Hanham Hall Redevelopment
Bauman Lyons
Tower Works – Leeds
FCB Studios
University of Bristol, Tyndalls Park Road
See all commercial clients and contractors we have worked with »