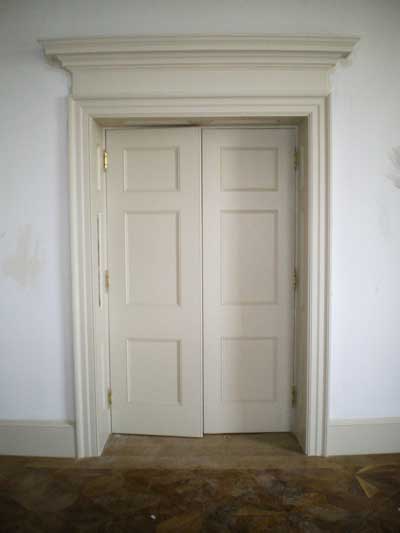 Timber Fire Doors
We design, manufacture and install fire rated timber doors for period properties. These external and internal doors comply with the Fire Safety Law without breaching heritage planning requirements, allowing them to be installed in listed buildings and conservation areas.
Fire resistant doors and panels can significantly slow the spread of fire along a room or corridor, as well as reducing damage caused by the smoke and flames. This is vital to maintain the integrity of the building's often timber framed structure.
All our fire rated products are fully compliant with the latest Fire Safety Law regulations. We currently hold certificates from Warrington Fire and Research Ltd, which meet the requirements of BS476, Part 22. This includes a fire resistance integrity of thirty minutes (FD30).
Fire door features
Meets regulations for use in listed and heritage buildings
30 minute fire resistance integrity
Warrington fire certification
Fire rated glazing available
Fire rated panels, screens and other matching timber joinery
Fire rated timber panelling and screens
As well as wooden doors, we supply and fit fire rated panels, screens and other joinery products. We offer a variety of panel styles, such as raised, fielded and flush, in a range of panel assemblies.
Fire Safety Law
Fire safety law for listed buildings
Changes to the Fire Safety Law means that owners of non-domestic properties are now responsible for ensuring the safety of everyone who uses the premises. However, listed buildings have a unique requirement in that any replacement doors need to retain the original period detail and style of construction, as detailed in The Listed Building Act. Fire rated doors from Wessex offer the best of both worlds.
Glazing
Fire rated glazing
Fire rated glass including Georgian wired glass can be incorporated, along with appropriate fire rated self-closers, furniture and hardware.
Types of timber
Wood types for period fire doors
Softwood, hardwood and specialist timber are all available for our range of fire doors. Choose from popular and durable types of wood, including air-dried oak, sapele, Douglas fir and European Redwood, among others.
Painting & finishes
Painted wooden fire doors
We are able to replicate period timber doors without the use of intumescent coatings, allowing the doors to be painted or finished normally with a clear coat. This allows for traditional white-painted internal doors, which meet modern day fire ratings.