Kresen Kernow Archive Centre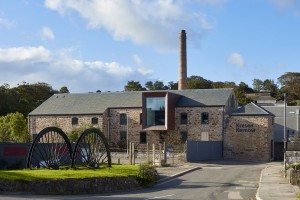 Project Details
Project: Kresen Kernow Archive Centre
Products installed: Specialist Design, Manufacture and Installation of Casement Windows
Completed: January 2019
Wessex Restoration recently completed a commercial contract to design, manufacture and install specialist casement windows into a grade II listed building in Redruth, to be used as the Cornwall council archive centre.
Kresen Kernow stands on part of the site of the former Redruth Brewery. The public research areas, exhibition spaces and learning rooms all sit within the former brewhouse. Redruth Brewery stood on the site for over 200 years, from around 1792 until it closed in 2004. The brewery was in its heyday in the 19th century, and in 1872 it was valued at the modern equivalent of £1.3 million, and by the 1880s it also owned more than 115 pubs and hotels. After the brewery closed the site was subjected to a series of arson attacks. The worst took place in May 2011 and left the site dangerous and derelict until 2016 when construction began to create Kresen Kernow.
With Purcell as the main architect, Cornwall's new archive centre, Kresen Kernow, safeguards the historic Redruth Brewery building at the heart of the Cornish Mining World Heritage Site. The project brings together the world's largest source of information and artefacts recording the people, places, history and culture of Cornwall and the Isles of Scilly.
Cornwall Council was able to secure £11.7m from the National Lottery Heritage Fund to go towards the £21m cost of the project, the largest grant made to a local authority archive service.
Wessex Restorations initial brief was to design new timber double glazed windows incorporating anti bandit glass, and where applicable, anti UV glass. Once the designs had been agreed, detailed site measurements were taken for each window, and where required templates were made. The new windows were then manufactured in our own joinery workshop, and then painted with the Dulux Weathershield exterior gloss system.
Once completed, they were transported to Kresen Kernow and fitted into the individual openings by our own installers. In this instance, due to the weight of the double glazed units, a specialist glazing contractor was engaged to fit the glass on site after the windows had been fitted.
Prior to handover, we fitted the majority of the windows with actuators, some of which were required because the windows were inaccessible, and others which had to be linked to the business management system to ensure that a constant internal temperature is maintained during warmer weather.
Wessex Restoration partakes in a variety of commercial and residential restorations for heritage properties, and we provide a range of repair and replacement services for timber windows and doors that have fallen into disrepair.