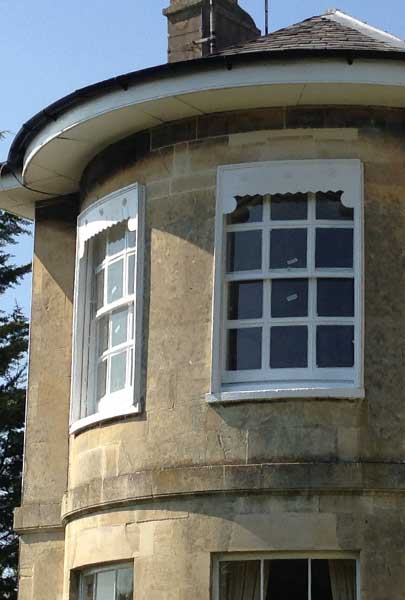 Replacement Timber Windows
At Wessex Restoration, we prefer to repair and renovate existing wooden windows, however sometimes this isn't possible. We manufacture new wooden windows, ideal for replacing existing windows in any style home.
What sets our wooden windows apart is the detail. Period casement windows often feature decorative joinery on the inside, finished with an architrave and sill. We can replicate these ornamental finishes and match the original profile for an authentic period look.
Timber window features
Bespoke design and manufacture
Any design, configuration and thickness possible
Optional period features and decoration
Traditional ironmongery, locks and handles
Fully draught-proofed
Window sills, scribed frames & other period joinery
Modern security and energy efficiency upgrades
Replica Timber Windows
Being a bespoke joinery workshop means that our craftsmen will be able to create a replica of your original timber windows. We use traditional methods alongside precision woodworking machinery to make exact replica replacement windows that fit the look and history of a period building.
One of our experienced joiners will visit your property to take precise measurements of your existing windows, to replicate the exact height, width and depth of the frame and sill, as well as the style of the inner mould.
Or why not check out our timber window restoration services for replacement glazing, sills, frames and other repairs?
Energy efficiency
Energy rated timber casement windows
Wood is an excellent thermal insulator, and our timber frames have great energy efficient properties. However, as experts in the heritage and conservation markets, we understand that most traditional timber windows that use single glazing can still lose a considerable amount of heat during their lifetime.
Glazing
Timber window glazing
Whether you're looking for single glazed timber windows for a conservation area or double glazed windows to maintain a traditional look, we have a range of glazing options available.
We work closely with conservation officers to offer the best specification wooden windows possible in your area. Many properties can benefit from a double glazing upgrade, with a range of gases and seals available for enhanced energy efficiency. We also offer Slimlite double glazing to give you the performance benefits of modern double glazing with the aesthetic appeal of traditional single glazing. In the case of reglazing a single pane, we can even use drawn glass for an authentic traditional look.
Types of timber
Types of wood for casement windows
We typically a variety of softwood and hardwood timber species in the manufacture of our timber windows, such as oak, sapele, Douglas fir, tulip wood, larch and Baltic redwood. Let us know if you have a specific wood type in mind – we can source most varieties!
At Wessex Restoration, we always choose air-dried rather than kiln-dried timber, sourced as locally and sustainably as possible.
Painting & finishes
Painted wooden windows
Our hardwood and softwood windows are supplied with a prime finish as standard, treated using traditional anti-rot treatment and ready to be painted or varnished. We can also install pre-painted windows in any colour (including white!) and offer on-site painting services.