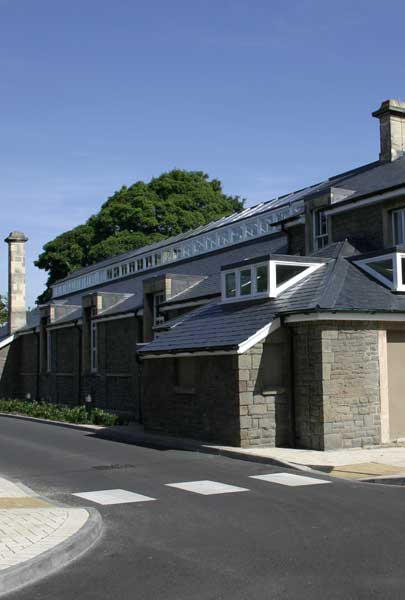 Commercial Joinery
Wessex Restoration has worked with construction companies, contractors and architects on a number of large heritage restoration projects, such as refurbishing museums and hospitals, and repurposing old buildings into new residential developments.
We can supply any period timber joinery required for commercial projects across the UK. Most of our projects have included sash window restoration or replacement, but we also manufacture and fit other timber glazing systems, internal fire doors and wooden ancillaries.
With many years experience in timber sash window restoration, we have the necessary knowledge and skills to provide you with a professional and reliable service.
Why work with Wessex Restoration?
Heritage joinery specialists
Experience in construction, public and private sectors
Compliance with conservation planning law
Fully equipped joinery workshop
Bespoke design, precise manufacture & expert fitting
Dedicated project manager
Delivering projects on time and on budget
Joinery contractors
If you're a builder, contractor, property developer or specifier looking for traditional products that comply with current specifications, then get in touch.
We'd be happy to discuss any project and can offer you technical advice and guidance in order to choose the best timber products for your next project.
Commercial clients we have worked with
Contractors/Clients
Projects
Ken Biggs Contractors
Paragon Laundry, Swindon
Midas Construction
Kresen Kernow Archive Centre, Cornwall
PegasusLife
Queen Victoria House, Bristol
WRW Construction
Brunel House, Bristol
Beard Construction
Royal High School, Bath
Cowlin Construction
Univeristy of Bristol Library
ISG
Cheltenham Museum & Art Gallery
Midas Construction
Heartlands Cornwall
Vinci
Nuffield Hospital Clifton
Barrett Homes
Hanham Hall Redevelopment
Charles Church
Former Convent Kings College Taunton
Edmont Construction
Bubbleswell Farm Gloucestershire
Beard Construction
St Johns Hospital Alms House
Rigg Construction
Wells Cottage Hospital Redevelopment
KJS Construction
Manor Farm Tetbury
Crucis Park
J Rigg Construction
Heathend Farm
WG Carter
Manor Farm North Oxford
Bagnells of Bristol
Bath Spa University Newton St Loe
Quarmby Construction
Tower Works Redevelopment Leeds
Ken Biggs Construction
American Museum Bath
City of Gloucester
Guildhall Gloucester
Rydon Construction
Southmead Hospital, Beaufort House
Beard Construction Ltd
University of Bristol, Tyndalls Park Road
Acclaim Constracts Ltd
Soldiers of Gloucestershire Museum, Custom House
Vinci Construction UK ltd
Chesterfield Hospital, Clifton Court