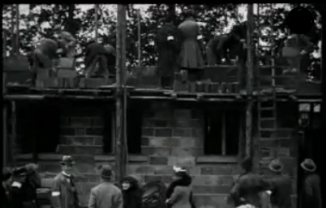 This month has seen the centenary of the start of the First World War: the 'war to end all wars'. When many people think of this monumental conflict, the first thing that comes to mind is not necessarily homes and timber sash windows, but a drive to create better quality housing for returning soldiers was actually a direct result of the war.
Housing for the majority of people and families in the United Kingdom in this period was in particularly dire state. Most people, particularly the working classes, had no choice but to live in cramped, poorly designed Victorian slums that were ill lit, ill ventilated, and that fostered disease.
It was clear that something needed to be done. With the majority of British working class men serving, fighting, suffering and forming the majority of the casualties at the front, there were increasing calls for there to be some sort of physical reward for them after the war; in recognition of the horrific sacrifices and hardships they had to endure throughout the conflict.
Homes fit for heroes
One of result of this call for rewards was the drive to create better housing for returning soldiers. British Prime Minister David Lloyd-George's pledge to build 'homes fit for heroes' led to the creation of the Housing Act of 1919 which promised to build an ambitious half a million new homes in a three year period, and renovate existing ones.
After the war, with the return of relative economic prosperity, a lot of people could afford to update the houses they live. For the majority of people this meant replacing their draughty, old-fashioned Victorian windows with brand new ones. Now, 100 years on, many of these houses still actually exist. Perhaps you might live in one? If your house has timber sash windows, and dates from this period, chances are that you do.
Restoring 100-year-old homes
Wessex Restoration are your local sash window repair and restoration specialists, dedicated to repairing timber sash windows, especially in listed buildings. We have over 20 years of experience of repairing, renovating and restoring timber sash windows and our skilled, committed team of renovation experts can carefully restore your old sash windows, casement windows and external doors to their former glory. If your sash windows are beyond repair we can even manufacture bespoke replacement windows which are perfectly tailored to suit the style of your property.
We pride ourselves on our environmentally-friendly credentials. All of our materials are sourced only from companies that are registered with the FSC (Forest Stewardship Council), which means that all our timber has been ethically sourced from sustainable forests, helping you to save the environment.
Maintaining these homes of past heroes is an important task, so if you're thinking of restoring your existing timber sash windows, Wessex Restoration with its focus on high quality, traditional values and craftsmanship is the company for you.