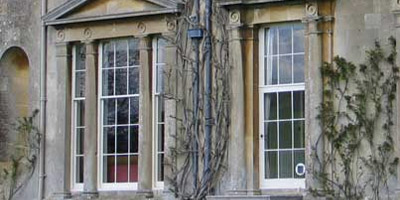 There are lots of different types of timber out there that can be used to manufacture wooden windows, but which exactly is the best wood to use for a heritage window?
Type 1: Douglas fir
One of the only softwoods that we use, Douglas fir is perhaps one of the best, and one of the most well-known, trees used in timber production across the world. Interestingly, its high quality timber is harder than many 'hardwoods'. Growing to often massive dimensions (a Douglas fir felled in 1897 in Washington, USA reported measured 465 feet high and 34 feet deep), this type of timber is incredibly strong and long-lasting, making it a firm favourite for wooden windows.
Type 2: Baltic redwood
Another extremely high quality softwood that we use, Baltic redwood, is renowned for its attractive, durable timber, making it perfect for use in window manufacture. Growing mainly in the Scandinavian and Russian area, Baltic redwood is very fast growing but has all the versatility of many hardwoods. This makes it a great, sustainable timber to use in window production.
Type 3: Sapele
Sapele is a hardwood timber, native to West Africa and a member of the mahogany family. It's smooth, mellow appearance and hardwearing nature makes it perfect for a range of cosmetic and practical uses; from furniture to musical instruments. Sapele's great attractive appearance makes it well suited to use in a timber window.
Type 4: Air dried oak
Oak is one of the most sought after types of timber from which to construct a wooden window. Traditionally oak is kiln dried. We air dry our oak because the process is better for external joinery; it provides a finished timber than is more durable and longer lasting, and manufactured not to rot.
Type 5: Larch
Another softwood, larch is a popular timber used in the construction of wooden windows. Generally sourced from sustainable European forests, Larch has great durability and is a versatile wood suitable for a range of purposes.
Type 6: Bespoke requests
At Wessex Restoration, we can also take bespoke requests for windows made of a particular type of material. This is perfect if your property utilises an unusual type of wood that you want to match with your windows.
Wessex Restoration: Wooden window specialists
At Wessex Restoration, we mainly use hardwoods in the construction of our wooden windows. This is because it takes an exceptional quality softwood to make a high quality window that we are happy with. Thanks to the great durability and thermal properties of hardwoods, we can produce exceptional quality timber windows, time after time.
As an environmentally friendly company, we only use FSC-rated (or similar) sustainable timber and source our timber as locally as possible. We also organically treat all of our timber using a special anti-rot treatment and traditional hand-brushing application.
Wessex Restoration are your local South-West specialists in period restoration. For more information about any of our manufacturing or repair services, get in touch today.