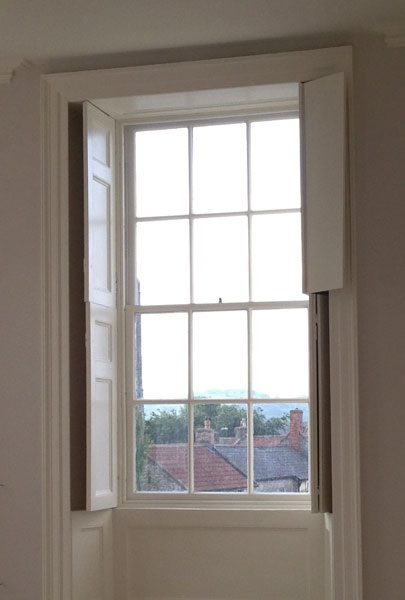 How energy efficient timber sash windows are depends a lot on a number of factors, such as age and quality. How old the windows are and when they were constructed, will play an important part in determining their energy efficiency.
The development of energy-saving technology over the last few decades has meant that modern timber sash windows are far superior in terms of thermal retention and energy efficiency, compared to older units constructed at the beginning of the 20th century.
Single glazed timber sash window
In a study of the energy efficiency of a timber, single glazed window, Paul Walker of Glasgow Caledonian University found that the U value of the unit was 4.5 W/m²K. This result is typical of the U values of most single glazed timber sash windows constructed in the early 20th century. This high U value indicates that old vertical sliders would be very thermally inefficient and lose a lot of heat.
Double glazed timber sash windows
In the same study, when double glazing was used in the same timber sash window, its U value was found to be 1.94.5 W/m²K. Effectively, installing double glazing was found to reduce the heat loss of the window by up to 55%, making an extremely efficient way to increase thermal retention
Slimline double glazing
Designed for window frames that use single glazing, slimline glazing has roughly the same low U values of double glazing and provides all the thermal benefits of a double-glazed unit, with the beautiful aesthetics of a single-glazed window. This makes it perfect for heritage buildings and period homes which need both the thermal benefits of energy-efficiency, and an authentic, period appearance.
Wessex Restoration: specialists in energy efficient timber sash windows
Wessex Restoration are your local South West specialists when it comes to fabricating and installing energy efficient timber sash windows. For more information about double glazed or draught proof sash windows, get in touch with the Wessex Restoration team today!