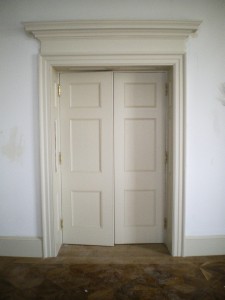 Under the current Fire Safety Order, renovations of period properties must abide by building regulations by using approved fireproof products and materials. However, according to the Listed Building Act, replacement doors must retain their original style and period features. So how do we do it?
Last month we wrote about our renovation of the University of Bristol's teaching rooms and offices. As part of the project at 30-34 Tyndall's Park Road, Wessex Restoration was contracted to install timber wall panelling and wood-panelled doors.
According to modern-day building regulations this means that, among other considerations, all replacement internal doors have to be fire rated. Fire doors are especially important to stop the spread of fire in heritage properties, which are typically constructed from more flammable materials. But, as in all restoration projects, we wanted to maintain the period features of these beautiful 19th century properties.
The solution to our problem came in the form of our replica heritage timber doors. These fire resistant doors are made from a solid timber slab, upgraded to fire-resisting levels. Not only do FD30 fire doors fit perfectly within a heritage building, but they keep fire contained for up to 30 minutes, giving time for the University's students, staff and guests to all leave the premises safely. Fireproof doors also reduce fire and smoke damage, which is vital to maintain the integrity of the building's often timber framed structure.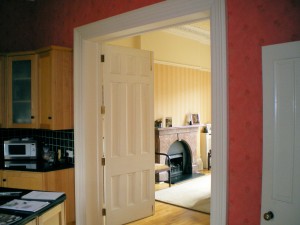 As well as timber internal doors, we supplied the University with fire rated panels. Timber panelling was one of the original features of this and other period properties, and we produce raised, fielded and flush panels as part of our range. Fire resistant timber panels can significantly slow the spread of fire along a room or corridor.
Visit our fire doors page to learn about additional heritage-style fire rated glass, hardware and fire-safety certifications.
Or call us on 01275 810322 for more advice about timber fire doors.
Wessex Restoration manufacture, supply and install timber fire rated doors and timber panelling that are fully compliant with the latest Fire Safety Order regulations.