30-34 Tyndalls Park Road, University of Bristol
One of our projects during 2013 was the refurbishment of three University of Bristol properties. Built in the Classical style, these Grade II buildings were thought to have been built around 1860 by the Bristolian architect George Gay. The University owns 30-32 Tyndalls Park Road and has a long lease on number 34, and they form part of the Clifton Precinct at the heart of the university's site.
Project Details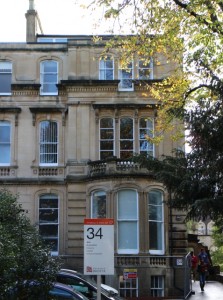 Project: 30-34 Tyndalls Park Road, University of Bristol
Products installed: Sliding sash windows, casement windows, timber wall panelling and replica panelled FD30 fire rated internal doors
Contractors: Beard Construction Ltd, alongside Bath-based architects FCB Studios
Completed: Autumn 2013
Over the years, 30-34 Tyndalls Park Road have been home to a collection of foundations and research centres. They are now the new offices and teaching rooms for social sciences and the arts. The site is next to a proposed development for a new lecture theatre for these disciplines.
Restoring the Victorian windows, internal doors and panelling
The University of Bristol has a five year, multi-million pound plan to upgrade their university housing and teaching buildings, to make the area around Tyndalls Park Road the social and educational hub of the university. These Victorian villas have been beautifully adapted to provide a modern and comfortable work and study environment, whilst retaining its charming period features.
Wessex recently completed a commercial contract to renovate and draught-proof the existing sash windows and casement windows, as well as creating replacement windows where necessary. We were also commissioned to create new timber wall panelling, as well as replica panelled FD30 fire rated internal doors.
Joiners of period timber features
Wessex Restoration partakes in a variety of commercial and residential restorations for heritage properties, and we provide a range of repair and replacement services for timber windows and doors that have fallen into disrepair. Unlike other timber window fitters, we also specialise in creating replica features, including wooden wall panelling, cills, skirting boards, architraves and other joinery.
Should you require replacements or upgrades, our timber windows and doors meet today's thermal efficiency standards, without taking away from the charming traditional appearance.