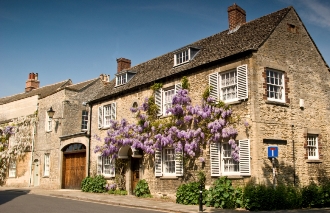 We're lucky to live in a country with old, historical and heritage buildings. But we haven't always valued the importance of our rich cultural history. Instead of today's nostalgic appreciation of historical buildings, previous generations would rip down old buildings to make way for "modern" architecture.
Maybe it was as a result of mass city rebuilds in the 1960s that something had to be done to save our cultural heritage. In 1967, the first conservation areas were set aside as examples of historical and architectural interest. Since then, local councils have designated more than 9,000 conservation areas across the UK.
What's the difference between conservation areas and listed buildings?
Conservation areas can be natural areas or heritage buildings, suburbs or town and city centres, which could include heritage properties. Listed buildings can exist outside of conservation areas, but are still subject to protection under the law.
Each local authority looks after its own conservation areas and listed buildings. Most buildings built before 1840 that retain their original features are listed, either Grade I, Grade II* or Grade II. There are fewer listed building from after this date, unless they are culturally significant or under threat.
Planning permission
As well as planning permission, listed building consent or conservation area consent must be sought before making any changes to a heritage building. Local authorities will assess the effects of the works on the structure and aesthetics of the building in order to preserve historical or architectural aspects. Councils will also consult national conservation bodies and the public before making a decision to grant permission.
In the same way that houses, extensions or conservatories can be ripped down when they fail to comply with building regulations, individuals or companies can be fined for disregarding heritage laws. It's a criminal offence to make changes to the structure of the listed building without obtaining permission first or cause damage to the property. For more advice about permissions, check out the English Heritage website here. Unfortunately, a prosecution cannot always repair the damage done, but it will still deter people in the future.
Do I live in a conservation area?
Each local authority will have a list of conservation areas under their care. They will also be able to provide you with a Conservation Area Appraisal with information on when and why it was created and its level of legal protection. Some councils have this information available on their websites. As an example, in North Somerset – Wessex Restoration's local authority – there are 35 conservation areas and more than 1,250 listed buildings. Neighbouring Bristol City Council have 33 conservation areas and nearly 4,500 listed buildings.
If you want to search for listed buildings, search on the English Heritage website.
Wessex Restoration carries out restoration works for windows, doors and other architectural joinery in listed buildings and conservation areas across the UK. Contact us to find out more information about our sympathetic replacement windows and doors, as well as specialist slimline double glazing for conservation areas.